We warmly welcome you to the family of
Shield of Faith Ministries (SOF).
COME JUST AS YOU ARE!!!
IMPERFECT PEOPLE WELCOME!!!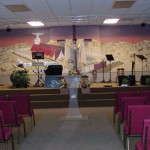 We love the Bible and earnestly study it so that we may know our God
and how to live for Him.
We look forward to our Sunday morning services because we love to express ourselves in worship and in bringing the heartbeat of God through the Word.
We also love seeing our church families
because of the friendships that God has been developing.
God and people are our #1 focus!
---
Schedule of Services
---
Intercessory Prayer is held weekly in the sanctuary.
Monday thru Friday from Noon until 1:00 p.m.


Intercessory prayer is an act of praying on behalf of others.
The purpose of intercessory prayer is to stand in the gap for others
by bringing their need/situation before God.
It is also a way to build someone up, through prayer, into what God wants of them.*You can send us a prayer request anytime using our online form.