Director: Pastor Weldon Townsend

Short-term mission trips are one to two week trips to various countries.

We have sent teams in the past to Glasgow Scotland, Jamaica, Mexico City, Brazil, China, Philippines, Israel, Eqypt, Italy and literally all around the world.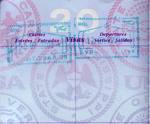 These teams are ministry focused and provide many opportunities for each trip member to impact others lives. This is a life-changing event for every person that participates. For more information about these mission trips visit www.globalawakening.com.

For additional information contact Pastor Weldon Townsend: (989) 781-4668